Hinata Hyuga is one of the most popular waifus in anime, capturing the hearts of thousands of Naruto fans. Thanks to her popularity, there are hundreds of ero-mangas featuring her. In this article, we will be counting down the 10+ best Hinata Hentai manga series that you should give a read!
I've tried to add some underrated and unknown titles to the list as well, so you are sure to find new doujins to read. I have also excluded most other doujins where Hinata is not the main focus, so you are going to get an exclusive view of Hinata's bazongas in the following titles.
So without further ado, let's get jump into the listing.
List of the best Hyuga Hinata Hentai manga
In this section, I will be counting down the best hentai mangas with our queen Hinata. Some of them are wholesome, while others are outright jailbait. Either way, these are the best in the genre, and I hope you enjoy them.
Also, in case you are not aware about how to use the following codes, check this article out!
Ninja Izonshou Vol. 3 (6624)
1 + 2 (284580)
Kage Hinata ni Saku (172601)
Saboten Nindou (413105)
Attaka Uzumaki 2 (156998)
Saboten Campus (390454)
Ninja Izonshou Vol. 8 (161398)
FutaSara (398441)
The NTR Ninja Way 2 (441828)
Hinata Fight! (451922)
Family Traditions (452021)
11. Ninja Izonshou Vol. 3 (6624)
The story of this Hinata Hentai doujin starts off after the Chuunin selection exam. Hinata was badly injured and was sent to the infirmary.
The doctors there made sure to keep her alive, not only because it was their job but also because they had a hidden agenda.
Once her medical stats showed signs of stability, the two doctors decided to do it that night. They inject something into Hinata's unconscious body to make sure she never wakes up that night.
After that, the two start having fun while the girl is lying unconscious in her bed, dreaming about her "training session" with her dad. As you can guess from the title, this one is the volume 3 of the series. In one of the previous volumes, we saw Hinata's father train her, which is referenced in this one.
10. 1 + 2 (284580)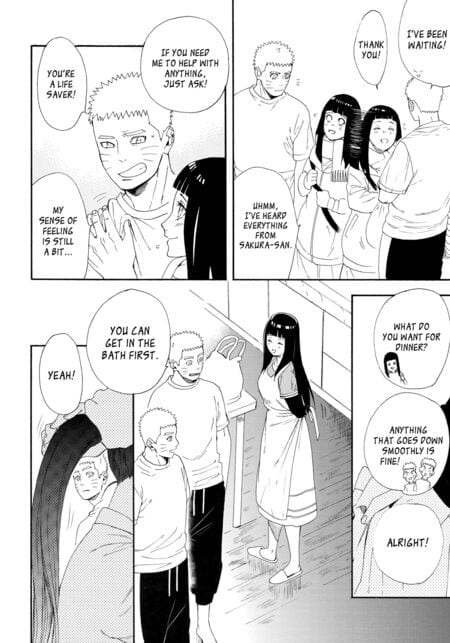 Remember those Naruto memes that have Hinata in the center of a sofa, surrounded by Naruto's clones? Well, this doujin manga brings life to that fantasy.
This is a wholesome, vanilla Hinata hentai featuring Naruto Uzumaki that has a good plot.
On a mission, Naruto gets bitten by a mysterious eel that paralyzes his hand. But there was a secret effect that nobody realized at that point.
After reaching home, Naruto felt the need to relieve himself, but Hinata arrived before he could. Naturally, things go the way you can imagine. Naruto and his clone invite Hinata to the bath and have some fun.
Recommended >> 10 Amazing Naruto Hentai Doujins To Pleasure Yourself With!
9. Kage Hinata ni Saku (172601)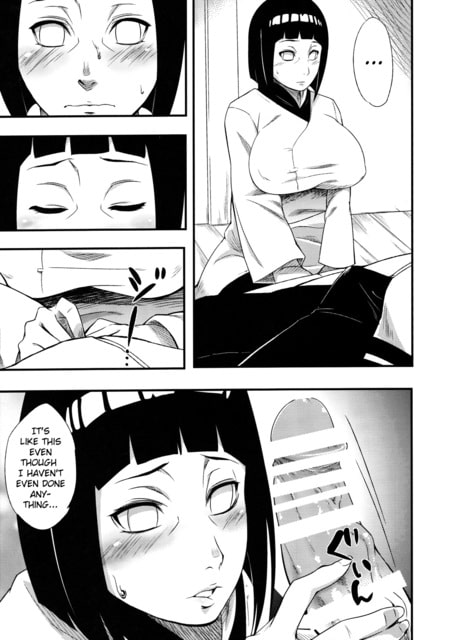 The story of this manga starts with an unconscious Naruto and Hinata watching over him.
It turns out Himawari activated her Byakugan, which resulted in Naruto becoming unconscious and hard. To help him out, Hinata decides to use her mouth, but it didn't seem to help as it was still rock hard.
Right when she was about to take it to the next level, Naruto awakens, and Hinata gets really awkward and apologetic. Naruto convinces Hinata that there is nothing to feel bad about, but she does not have the courage to face him.
So Naruto suggests that they can continue without seeing each other, and the fun continues. We also get to see Hinata making herself young at the request of her husband.
8. Saboten Nindou (413105)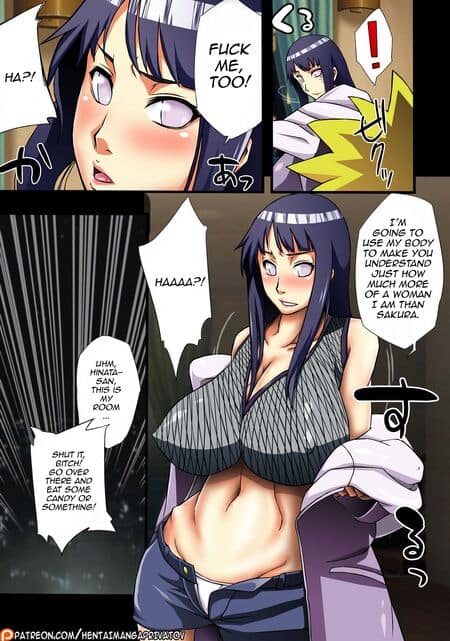 This is a fully colored and uncensored Hinata hentai doujin featuring Naruto and Sakura. Our hero Naruto is in a harem situation where both the above-mentioned girls are competing for him.
The story starts off with Naruto and Sakura hitting it off. However, Hinata arrives, and she gets really angry when she busts them. After all, who would want their lover to cheat on them?
So, as a competition, she offers Naruto herself in order to prove to him that she's got better goods than Sakura.
Now, Sakura is pissed because they are using her room to have fun while she has to stand there watching them. Realizing her rage, Naruto asks Hinata to return home, after which he proceeds to play with Sakura.
Recommended >> Top 10 Best One Piece Hentai Doujins For You To Read
7. Attaka Uzumaki 2 (156998)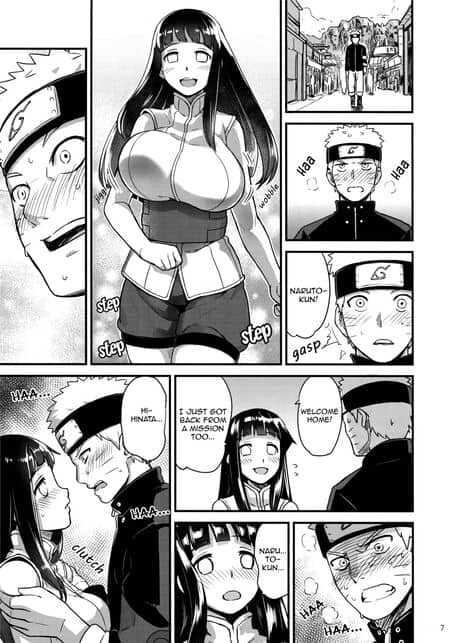 At number 7, we have the second volume of the Attaka Uzumaki series, where we get to see our favorite couple in action.
This is yet another wholesome, vanilla Hinata hentai where you get to see the juicy, uncensored action between the newly married ninja couple.
The story starts with Naruto seriously missing Hinata, as he has not seen her for 3 weeks thanks to a mission. Soon after he gets home, Naruto cannot hold back anymore.
So he rushes Hinata and starts the action without getting her consent. However, after he's climaxed, he regrets that and apologizes. But it turns out Hinata had been wanting that too, and they get all blushy and start romancing.
6. Saboten Campus (390454)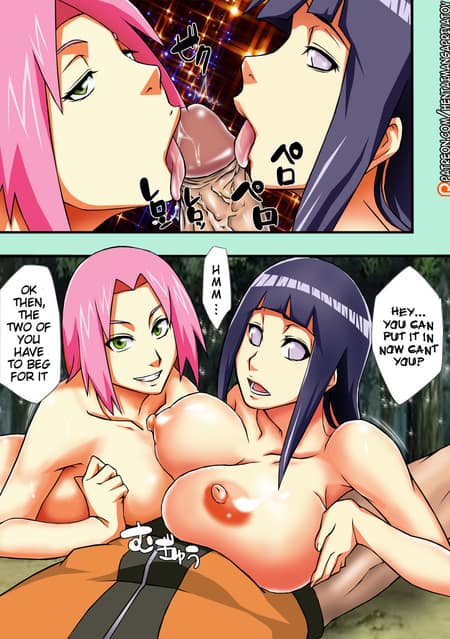 Saboten Campus is the hottest fully colored Hinata hentai doujin out there that also features Sakura.
The story starts off with Naruto risking his life to save Sakura. Unlike the canon story, Sakura is actually concerned and even rewards him when Naruto's stick grows tall.
While the duo is sneakily having fun behind a rock, Hinata is spying on them from afar. Sakura notices this and tells Naruto. He invites Hinata, and we get to see the best harem fantasy come to life as the trio goes on wild adventures.
5. Ninja Izonshou Vol. 8 (161398)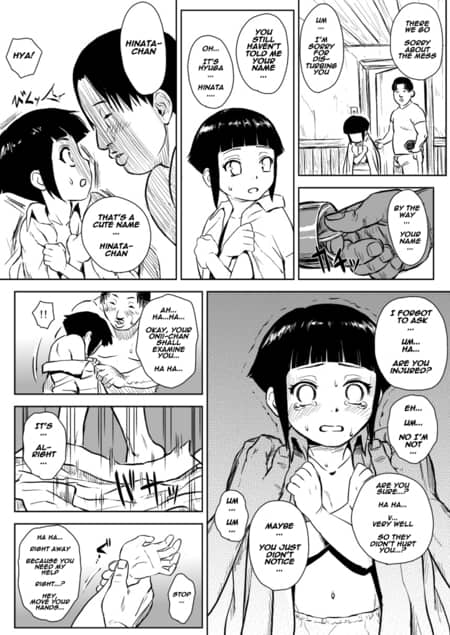 Next up is the eighth volume of the Ninja Izonshou series, which features Hinata, Ino, Sasuke, Hanabi, Neji, Sakura, and other mob characters.
The story starts with Hinata being bullied as a child. However, she is saved by a man who offers to let her wash up in his house. Of course, he doesn't have the best intentions in mind.
By the time her family comes to rescue her, the deed has been done. Hinata is unconscious.
After that, Hinata gets sent to special training where she is taught how to become the best house hiress. She is treated as a disappointment, so she runs away. This is when she meets Neji, who "trains" with her and reminds her of her worth.
4. FutaSara (398441)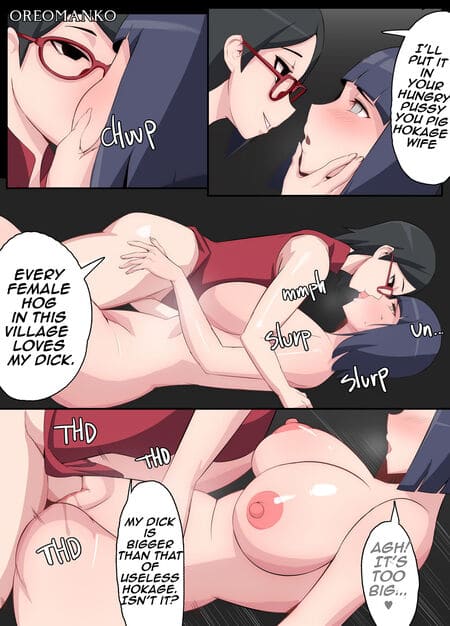 This doujin features the main girls of Boruto, including Naruto in his female form.
Sarada is the futanari in this story who has the couple under her charms. She uses her giant asset to please the duo.
We see Sarada absolutely dominating mommy Hinata in her fight, to the point she becomes completely subservient. In the intro, we also see Naruto in his female form, but we don't actually see more of that in this volume of the manga.
This is a fully colored and uncensored Hinata hentai manga that every futa lover will enjoy.
Recommended >> Top 10 Best Premium Incest Hentai Anime of All Time
3. The NTR Ninja Way 2 (441828)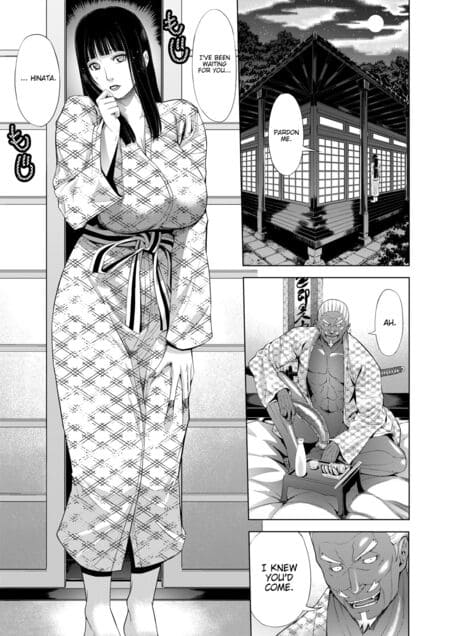 As you can guess from the title, this is a sweet NTR hentai where we see Hinata having fun with the fourth Raikage.
The story starts with the Raikage sitting in a pose that presented his unbelievably long and hard family jewel. Hinata goes to visit him because she can't get enough of that jewel.
Without wasting any time, the duo gets into it and has an intense session. But to our sweet girl's surprise, she wasn't the only one who was fascinated by the raikage's jewel.
Sakura steps in and joins in on the fun, where we get to see the juiciest piece of content to ever exist in the genre. What's more, this doujin is uncensored, making it the perfect pick to read.
2. Hinata Fight! (451922)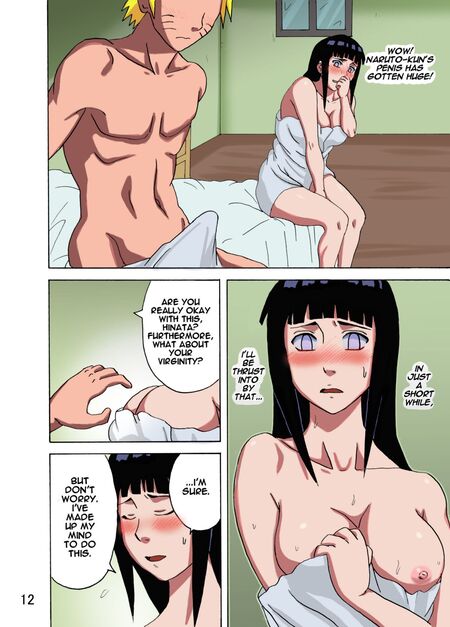 At number 2, we have a fully colored and uncensored Hinata hentai doujin with Naruto. The story happens at a time when our girl is still hesitant to talk to or propose to Naruto.
Naruto playfully pokes her chest while exclaiming that she has grown a lot since they last talked. He was fully expecting a punch to the face, but to his surprise, all he got was a cute blush.
Hinata says she doesn't mind and even offers to let him research her for his jutsu. But Naruto, in the heat of the moment, slips his hands into somewhere he shouldn't.
Hinata pushes him away, not because she hates it but because they were in public. She asks him to continue elsewhere, where nobody could disturb them.
1. Family Traditions (452021)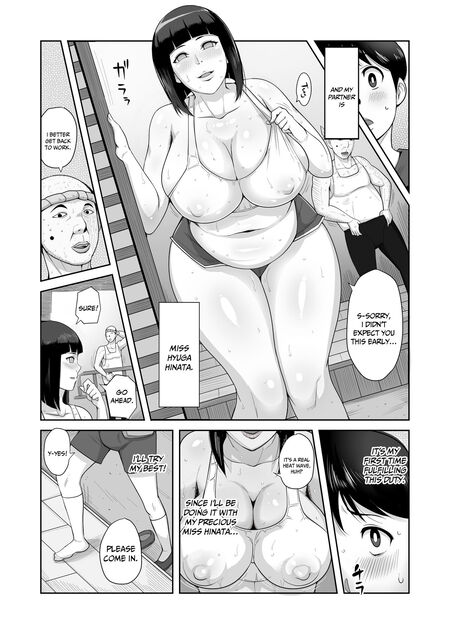 This story is a little different from the actual Naruto series. The Hyuga family's hiress has to try to conceive a baby three times a month. Her partner will be picked randomly from her clan.
Following this traditional rule, we get to see Mommy Hinata wait for her partner. The twist is that her partner is a boy who is not even half her age.
The boy is absolutely thrilled by the sight of humungous melons and buns as he is peeking at her.
Hinata is aware of his presence and makes super cool poses to thrill the boy even more. Soon, she invites him to follow the family tradition, and we see a great session play out.
That's it for this post! These are the 10+ best hentai doujins featuring our waifu queen, Hinata Hyuga.
If you are looking for more juicy recommendations in the hentai genre, check out our other posts with more hot titles.
Also, don't forget to hit the bell icon in the bottom corner to subscribe for more recommendations. Thank you for reading, and we'll see you in the next post~